Membership Application Process
Thank you for your interest in becoming a new member. We will guide you through the process to become a member, but first, please ensure that your institution meets the eligibility requirements prescribed by the Federal Housing Finance Agency (FHFA). Follow these steps to begin the application process:

Step 1: Contact our Vice President, Director of Sales
Step 2: Download and begin completing the applicable membership application
Membership applications for insurance companies, banks, credit unions and CDFIs can be found in Forms + Applications.
​Please note: The application includes a checklist of required inormation that should accompany your submission.
Step 3: Submit the application and supporting documents
Please email your application and documents to vicki.benson@fhlbboston.com or mail them to FHLBank Boston, ATTN: Vicki Benson, 800 Boylston Street, Floor 9, Boston, MA 02199. You will be notified upon receipt of your application.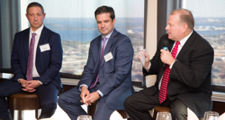 If you work for an insurance company, learn more about the value of membership.