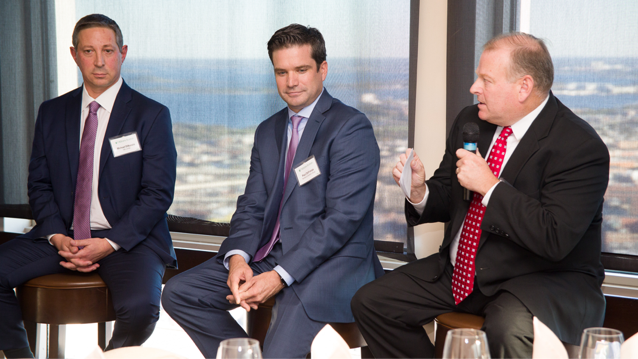 Resources for Insurance Companies
Insurance company membership has grown at a rapid rate as firms increasingly recognize the value of FHLBank Boston products and services. Our team of experts and prominent industry specialists share their opinions about the advantages of being a member.
Membership Overview for Insurers
​To learn about the benefits of FHLBank Boston membership, please view these slides or contact Matt Stewart, vice president, director of sales.

Funding Strategies for Insurance Companies
FHLBank Boston offers an expansive line of products and services and provides you with solutions and strategies to help you maximize your membership. View our webinar to explore funding strategies.
Opportunities for Insurers with FHLBanks
Read what well-respected investment management firms have to say about the value of FHLBank membership below:
Voya Investment Management explains how to increase returns using FHLBank funding in this white paper, "Utilizing FHLB for Insurance Portfolio Management to Drive Risk-Adjusted Returns." The firm's head of insurance portfolio management also joined FHLBank Boston for this webinar to explain how insurers can add durable, low-cost external leverage to lower-volatility assets via advances to enhance risk-adjusted return potential.
In this article, New England Asset Management (NEAM) provides insight on how the Federal Home Loan Bank (FHLBank) System continues its track record of providing liquidity to its insurance company members through various market conditions.
Fort Washington examines how using a spread-based borrowing program to invest low-cost FHLBank advances in higher earning assets can generate a target rate of return on captial in this piece.
Enhancing Investment Yield and Total Return
How Insurers Use FHLBanks
Conning is a leading investment management firm with a long history of serving the insurance industry. Conning has provided a viewpoint that discuss the advantages of borrowing through FHLBank programs. Of equal value is Conning's strategy alert article Portfolio Income Opportunities Amid Market Distress.
Boost Commercial Mortgage Returns Using FHLBank Boston Advances
Learn how investing in commercial mortgage assets can boost returns. Read MetLife Investment Management's article Opportunities and Avenues here.
Our list of insurance company members is growing and includes:
A.I.M. Mutual Insurance Company
Aetna Life Insurance Company
Alliance of Nonprofits for Insurance, RRG
American European Insurance Company
American Excess Insurance Exchange, RRG
Amica Life Insurance Company
Amica Mutual Insurance Company
Arbella Mutual Insurance Company
Aspen American Insurance Company
Aspen Specialty Insurance Company
Barnstable County Mutual Insurance Company
Blue Cross & Blue Shield of Rhode Island
Blue Cross and Blue Shield of Massachusetts HMO Blue, Inc.
Blue Cross and Blue Shield of Massachusetts, Inc.
Blue Cross and Blue Shield of Vermont
Citizens Insurance Company of America
Commonwealth Annuity and Life Insurance Company
Community Hospital Alternative for Risk Transfer (A Reciprocal RRG)
Connecticut Attorneys Title Insurance Company
Coverys RRG, Inc.
Danbury Insurance Company
Depositors Insurance Fund
Dorchester Mutual Insurance Company
Empower Annuity Insurance Company
Fallon Community Health Plan, Inc.
Farmers Property and Casualty Insurance Company
First Allmerica Financial Life Insurance Company
Fitchburg Mutual Insurance Company
Hartford Fire Insurance Company
Hartford Life and Accident Insurance Company
Harvard Pilgrim Health Care, Inc.
Hingham Mutual Fire Insurance Company
Hospitality Mutual Insurance Company
Housing Authority Property Insurance, A Mutual Company
Housing Authority Risk Retention Group, Inc.
ICI Mutual Insurance Company, RRG
Integris Insurance Company

Ironshore Specialty Insurance Company
Lexington Insurance Company
Liberty Mutual Insurance Company
Maine Employers' Mutual Insurance Company
Massachusetts Credit Union Share Insurance Corporation
Massachusetts Mutual Life Insurance Company
MCIC Vermont (A Reciprocal RRG)
Medical Professional Mutual Insurance Company
MEMIC Casualty Company
MEMIC Indemnity Company
Merit Life Insurance Company
MMG Insurance Company
Narragansett Bay Insurance Company
Nassau Life and Annuity Company
Nassau Life Insurance Company
National Life Insurance Company
New London County Mutual Insurance Company
Norfolk and Dedham Mutual Fire Insurance Company
Peerless Insurance Company
PHL Variable Insurance Company
Quincy Mutual Fire Insurance Company
Safeco Insurance Company of America
Safety Insurance Company
Savings Bank Mutual Life Insurance Company of Massachusetts
Starmount Life Insurance Company
Talcott Resolution Life & Annuity Insurance Company
Talcott Resolution Life Insurance Company
The Beacon Mutual Insurance Company
The Commerce Insurance Company
The Hanover Insurance Company
The Ohio Casualty Insurance Company
Union Mutual Fire Insurance Company
United Educators Insurance, A Reciprocal RRG
Unum Life Insurance Company of America
Vantis Life Insurance Company
Vermont Mutual Insurance Company
Voya Retirement Insurance and Annuity Company
Yosemite Insurance Company