"Customer service is part of our team's DNA. I feel rewarded when I'm working with members from all different backgrounds and they let me know that I have ultimately helped them get their job done."
Carielle Collins
Member Funding Specialist
​Carielle Collins
Member Funding Specialist
Carielle is a member funding specialist proudly serving our members since 2003. She specializes in assisting members with advances and lines of credit.

A graduate of the University of Maine at Farmington, Carielle began her career at FHLBank Boston as a receptionist. She was shortly promoted to customer service representative, followed by bank operations senior analyst, and then specialist before assuming her current role.

Carielle enjoys spending time with her family, traveling, and checking out the many eclectic restaurants the city of Boston has to offer.

Our team is here to help you achieve your funding goals and elevate your strategies.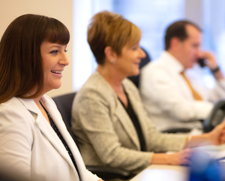 Find an advance for your business needs:
​What is your funding goal?